About EnerFlex PROCARDO
EnerFlex™ PROCARDO is a novel and palatable multiple actions high dietary fibre soy functional food evolves from its proprietary base, EnerFlex™ powered by patented soluble dietary fibre (digestion resistant maltodextrin also known as analogue carbohydrate) to help regulate cholesterol metabolisms via functional soy peptides 7S & 11S (through up-regulation of hepatocyte LDL-C receptors and inhibition of HMG-CoA Reductase enzyme), soy lecithin (as lipid emulsifier) and patented indigestible maltodextrin) through bile excretion pathway) was resulted from excellent collaborative innovations of leading functional ingredients producers in the United States, Japan, China and Taiwan.
Unlike maltodextrin, digestion resistant maltodextrin is a rich source of water soluble dietary fibre. This is consistent with both the American Association of Cereal Chemist's and the Food and Butrition Committee of the National Academy of Sciences (NAS) definitions of dietary fibre. In both cases, digestion resistant maltodextrin is classified as "resistant maltodextrin" and in both cases; "resistant maltodextrin" is classified as dietary fibre )AOAC method #2001.03). Is has been approved as GRAS (generally recognized as safe) by the US FDA and certified Kosher by the Orthodox Union. At high levels, unlike insoluble fibre, digestion resistant maltodextrin doesn't affect eht taste or interfere with mineral or calcium absorption and bloating making it an excellent fibre source for consumers of any age.
Mode of Action of EnerFlex® PROCARDO in cholesterol regulation
EnerFlex® PROCARDO is created to fulfill the need for optimal cholesterol balance inyour bloodstream via the following mechanisms:
Limiting excessive cholesterol production





Enhancing cholesterol metabolism by LDL-receptor up-regulation in the liver

Effective cholesterol removal via bile-acid pathway and excreted as feces through the colon

Provides exogenous antioxidants and building block for endogenous antioxidants formation to prevent peroxidation of LDL-C



Direction of Use
Dissolve 2 sachets in 150ml warm water and best to be taken before dinner or bed.
Box contain: 20g x 15 sachet
Natural Solution To a Modern Problem
Comparative study on EnerFlex Procardo and leading soy beverages in Malaysia, Hong Kong and Thailand.

It is very obvious to conclude that only EnerFlex Procardo soy formula is able to emulsify fat and unsaturated oil. Hypothetically, EnerFlex Procardo can be beneficial to people with problem in digesting fatty food especially for those with gallbladder removed.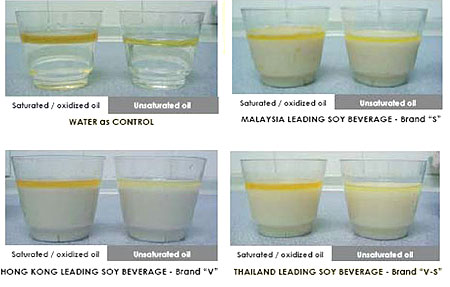 Subject to Stock Availability. Full refund will be given if we cannot fulfil.
Please Allow 10 - 14 working days for delivery.
Thank you.